As the long summer nights start to fade and the leaves begin to turn, autumn is the perfect season for adventure travel. Whether you're looking for a weekend getaway or a longer vacation with your friends, autumn offers plenty of activities to fill your days with excitement.
From hiking and camping to exploring charming towns and cities, the outdoors is filled with beauty and adventure. So, put on your hiking boots, grab your camera, and get ready for some awesome autumn travel adventures!
Hiking to the Top of a Summit
Fall is the perfect time to hike up to the top of a summit. The crisp air and golden colors make the view even more stunning. Pick a peak that isn't too challenging if you're new to hiking. Bring a backpack with snacks, water, and a first-aid kit. Don't worry about taking the perfect Instagram photo. Simply enjoy the journey!
Bike Through the Countryside
Cycling through the countryside is a fantastic outdoor activity with your friends in the fall. The rolling hills and beautiful autumn colors will make the ride even more enjoyable. If you don't own a bike, don't worry; you can easily rent one at a local bike rental shop. Pack a picnic lunch for a relaxing break in a scenic spot.
Exploring Small Towns
What could be better than exploring charming small towns in the autumn? Stroll along the streets and admire the fall decorations, go on a small café crawl, and taste some local delicacies. Take lots of pictures that will make your friends envious! Don't forget to check out local events and festivals, such as apple-picking season or a pumpkin patch.
Campfire Adventure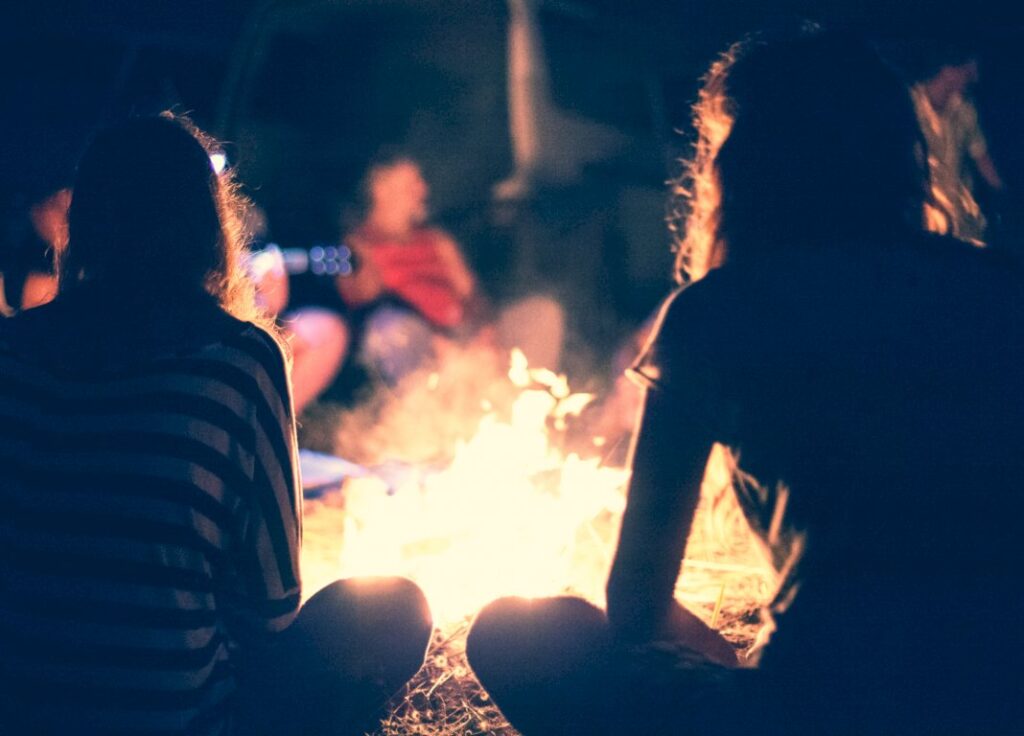 Autumn is the perfect time to have a campfire adventure. Rent a cabin, or pack your tent and some sleeping bags and go camping. Roast marshmallows, sing songs, tell stories, and make new friends under the starry sky. If you're not into camping, consider renting an Airbnb and having a cozy fire inside.
Vineyards and Harvest Season
Another fun autumn travel adventure is visiting vineyards during harvest season. Say cheers and taste some delicious wine as the vineyards harvest grapes. Most vineyards will offer tours and tastings, and some will even let you participate in the grape harvest. Pair your wine with some delicious local foods and live music for a perfect evening with friends.
Halloween Haunted House Attractions
Finally, for a truly spooky experience, consider visiting a Halloween haunted house. Most cities and towns host Halloween-themed events with creepy decor and costumed actors. It's the perfect way to get into the autumn spirit, and it will definitely be an adventure you'll never forget!
Bonus: Preparing for Your Trip
Before you hit the road, don't forget to prepare for your trip. Being well-prepared will ensure that your adventure is as enjoyable and hassle-free as possible. Here are four essential steps you need to take to get ready:
Pack the right clothes.
Packing the right clothes for the weather is essential for having a great trip. Bring lots of layers so you can adjust to the temperature. Make sure to also pack comfortable shoes that are suitable for the activities you plan to do.
Research your destination.
Make sure you have all the information about your destination before you go, such as its climate, best attractions, and local customs. Doing some background research will help you make the most out of your vacation.
Plan your meals.
Planning ahead is always a good idea, especially when it comes to meals. If you're camping or going on a road trip, pack snacks and other food essentials. Don't forget to also check out local restaurants for delicious local dishes that you might not find at home.
Have an emergency plan.
Always have a backup plan in case of emergencies and unexpected changes to the itinerary. That way, you can enjoy your trip without worrying about something going wrong.
By following these steps, you'll be all set for an unforgettable autumn travel adventure with your friends.
Autumn is a time of transformation and beauty, an ideal season for outdoor enthusiasts and adventure seekers. Whether you're scaling the heights of a stunning summit, cycling through the vibrant countryside, exploring quaint small towns, basking in the warmth of a campfire, savoring the season's harvest at a vineyard, or getting a thrill from a haunted house, this season offers a myriad of unforgettable experiences. No matter how you decide to spend your autumn, embracing the season's charm and the adventures it provides will undoubtedly result in memories you'll cherish forever.
For more valuable information visit our website.