Americans love going on road trips. It's one of the best on-the-road experiences and one of the most done activities outdoors by many. It's estimated that about 206 million will go on a road trip this year, and it's going to be the most popular mode of travel this year. So forget about going on a plane and risking yourself to the virus, and consider going out there and enjoying the fresh air of the American countryside.
Now, a road trip is only as good as the company you are with and your driving car. There are many options for choosing a car for your trip. You can go with the old school option and rent a car or buy a new one. But if you have to choose the right car model, there is only one that'll stand out if you want an intimate road trip if your partner, the MX-5 Miata.
The MX-5 Miata
The MX-5 Miata has been around since the late 80s and has been one of the most popular sports cars. It's easy to see why as it's small, lightweight, and very efficient. But most importantly, it's a great car to take on a road trip as it's very comfortable for long drives.
The most recent iteration of the MX-5 Miata is the 2021 model, which will be the car discussed in this article.
The MX-5 Miata 2021
The MX-5 Miata 2021 sports a new design inspired by the previous generation MX-5 Miata. The main difference is that the 2021 model is a bit longer and wider, giving it a more aggressive look. This look also provides better aerodynamics for the car, which is always good for a sports car.
The MX-5 Miata 2021 also has a new 2.0-liter four-cylinder engine that produces 181 horsepower and 151 lb-ft of torque. This improvement over the previous generation's 155 horsepower and 148 lb-ft of torque. The car also comes with either a six-speed manual or a six-speed automatic transmission.
The best part is that the MX-5 Miata 2021 has a starting price of $27,600, which is a bit more expensive than the previous generation's starting price of $25,730. But for the extra money, you're getting a better car that's more comfortable and have more features. Moreover, that's less than the average cost of an American car nowadays, which is around $47,000.
Now let's talk about why this is one of the best cars made for road trips.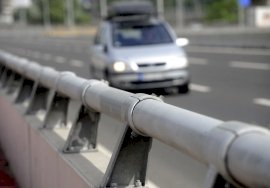 MX-5 Miata For Long Road Trips
First off, the MX-5 Miata is a two-seater sports car. This means that it's very intimate for long drives as you're right next to your partner the whole time. You also don't have to worry about fitting a lot of luggage as the trunk space is pretty good for a sports car.
The MX-5 Miata is also a very comfortable car. The seats are very supportive, and the ride is smooth, even on bumpy roads. This is thanks to the car's suspension, which is one of the best in the business. You can also adjust the car's seat to your liking to be as comfortable as possible.
Moreover, the MX-5 Miata is a very efficient car. It has a fuel economy of 26 mpg in the city and 34 mpg on the highway. This means that you can go on long drives without worrying about stopping for gas too often.
Lastly, the MX-5 Miata is an enjoyable car to drive. It's not the fastest car out there, but it's still a blast to drive. The car is very agile and handles corners very well. This makes driving on twisty roads a lot of fun. If you want to raise the bar for this car, put on some suggested upgrades.
Upgrades
Upgrades are essential for every sports car, especially for road trips. The first thing you should consider having is a window tint.
Window Tint
This upcoming summer will be one of the hottest summers that the country will experience. Installing a car window tint can help keep the cabin cooler and UV rays out. It's a cheap and easy upgrade that you can do to improve your road trip experience.
Sound System
The MX-5 Miata has a decent sound system, but it's not the best. If you're going to be on the road for a long time, it's worth upgrading to a better sound system. This will make the miles fly by as you listen to your favorite tunes.
There are many different sound systems that you can choose from, so make sure to do your research before picking one.
Suspension
The MX-5 Miata has a great suspension, but it can always be better. There are many different suspension kits that you can choose from to improve the car's handling. This is a significant upgrade if you're planning to drive on twisty roads.
The MX-5 Miata 2021 is one of the best cars for road trips. It's comfortable, efficient, and a lot of fun to drive. So if you're looking for a great car to take on a long road trip, the MX-5 Miata is perfect.
For more valuable information visit this website.